Greek fava is delicious alongside a selection of meze or as a dip with bread or carrot sticks, or a replacement for your mashed potato.  Versatile or what!?
Made of yellow (or red) split peas, fava originates from Santorini where the peas grow well on the island's rich volcanic soil.  These days we can find dried split peas in health food shops and most supermarkets.  Easy to keep in your larder and have at hand when you're wondering what to cook that night.
I tend to soak the split peas for at least four hours even though they're more easily digested than larger dried beans – just habit from working with clients who can't tolerate pulses.
I love fava with caramelised onion on top or with capers – or both.  There are so many variations, it's one of those taste-and-decide recipes, as you can tell by some of the options I've suggested below 🙂
You can blend it super smooth or mash it to whatever texture your taste buds like.  It's a super easy & delicious recipe, so I hope you try it out.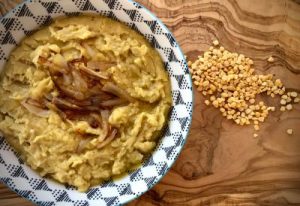 Ingredients:
For 4
250 g yellow or red split peas (soaked min 4 hours if you want to play it safe)
1/2 red onion, peeled
another onion, peeled and finely sliced
1 peeled clove garlic, & an extra to add later if you like a garlicky taste
1 heaped tsp ground cumin
squeeze of lemon juice
a smidgeon or more (or less) of ground chilli
sea salt
freshly ground pepper
extra virgin oil
capers, if you like them
Method:
Sieve the split peas to remove any possible small stones then if you have the time soak overnight, but otherwise just wash well.
Put into a pot and cover with about 1″ water.
Peel your onion, chop in half and snuggle it, together with the peeled garlic clove, into the centre of your peas-in-a-pot.
Boil and skim off the white froth that will want to bubble over.  Then simmer with lid on.
When I used to try different versions of this recipe I'd often read, 'cook for 40 mins' but, to be honest, my split peas seem to get soft within 15-20 minutes.  This could be due to the soaking, or the peas.  However, once you've skimmed the scum and place on simmer, don't head off to your desk or into the garden.  Stay close as they may be soft and ready sooner than you think, or they may need more topping up with water if they're resolutely hard.
Meanwhile, finely slice the other 1 + 1/2 onion and gently fry in oil in a pan.  This will be your topping, so just put aside until you need it.
When the split peas are cooked and soft, blend or mash, add the squeeze of lemon, spices and taste.  If the garlic flavour has boiled away, add another fresh clove.
Make a small crater (ode to Santorini) in the middle and drizzle in some virgin olive oil and top with your caramelised onion and/or capers.
Enjoy!