In these days before Christmas, when some of us are seeing well-laid plans scuppered, or Xmas traditions taken away due to Omicron looming large, it feels like the right time to share some positives from my world of functional nutrition.  Not about Covid or immune health (we need a break, plus I wrote about it here back in March). https://www.appleaday.org.uk/immune-health-natural-tool-kit/
Instead, some books and a few of the many health 'influencers' and podcasts that have inspired and taught me, plus some health facts about the vagus nerve, which may sound random, but isn't, because it has popped up at so many webinars, online conferences and health discussions this year.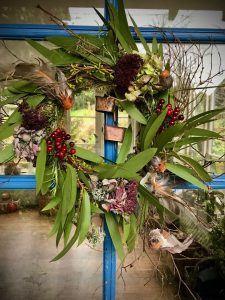 Introducing the vagus nerve (VN):
This nerve may not be on your radar, but one of the reasons it keeps coming up in the health world is because it's the main neural highway running from the brain down the length of the body.
In fact, it's the longest nerve in the autonomic nervous system, and it travels or 'wanders' (= latin vagus) down the body to the colon, innervating organs as it passes the cardiovascular, digestive and reproductive systems, taking information from each and sending on messages from the brain.  Little wonder it has the potential to impact health!
The trouble is, like so many body parts, this nerve can lose tone from middle age.  It's also affected by a sedentary lifestyle or chronic stress, trauma, poor diet, and more of the usual western world lifestyle habits.
And this loss of vagal tone can then undermine the organs and systems it passes through, affecting mood, digestion, breathing, heart rate, reflex actions, even relaxation.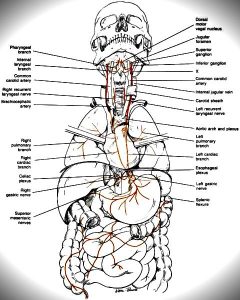 So how do you improve vagal tone?
Meditation, yoga, pilates (really most form of exercise), will help improve your autonomic nervous system and the vagus nerve.  And then, interestingly, taking cold showers or swimming in cold water (maybe not something to start now if you're living in the northern hemisphere!)
There are other even more unexpected and unusual practices that are at the top of the list when you read about improving vagal tone.  And they're very do-able.
Humming or singing loudly 
How lovely is this!  By humming or singing, you actively stimulate the laryngeal muscles and improve the signalling of the VN.  If you don't have a voice others appreciate sing in the car to the radio; it won't complain!
Laugh loudly (the harder the better)
A smilar mechanism to singing, plus research already tells us that laughter improves physical and mental well being.  So if it also specifically helps vagal tone, there's another reason to watch more comedies over Christmas.
Gargle with vigour!
Ideally 3x daily for a minimum of 20 seconds, which may sound short, but isn't when you're starting out.  Anecdotal evidence shows it can improve gut health, specifically peristalsis and symptoms of a hiatus hernia.
When you gargle you activate the three pharyngeal muscles at the back of the throat which stimulates the vagal nerve.   You'll feel your diaphragm and muscles around your stomach and oesophagus getting quite a work out, and if tears pool in your eyes it's apparently a sign you're doing it correctly.  According to Dr N. Habib who wrote a comprehensive book called 'Activate your vagus nerve' (yes, there are specialised books about it), the superior salivary nucleus is being stimulated, which triggers the glands around your eyes to produce fluid.
Like brushing your teeth, gargling should become part of your life…. your new noisy singing life!
And by adding salt to the gargle water you have the added benefit of an antimicrobial oral wash.
If any of this sounds like a Christmas fairytale just search online for vagus nerve and you'll be inundated with a plethora of articles and studies referencing its importance.
Podcasts on health and life
Podcasts are such a great platform to hear the latest in health!  I love them and wish I had more time to listen to more…
Rangan Chatterjee's 'Feel Better Live More' is still my overall favourite with so many expert guests sharing their unique insights and wisdom.
I particularly liked the May interview with investigative journalist, James Nestor.  The latter has written a brilliant book, 'Breath'  which covers far more aspects of breathing than I ever thought possible.  In using himself as a guinea pig in all the different breathing techniques that are out there, he not only tells a great story but ultimately makes it clear how we should all be breathing for good health.
Another interview on July's 'Feel Better Live More' that has stayed with me, was with Dr Rahul Jandial, a neuro surgeon.  He talked about the trials and joys of his training years and subsequent career, and how humbled he is by his patients.  Jandial's book, 'Life on a Knife's edge' is extraordinary, illuminating and at times unnerving.
Other great podcasts I try to find time for:
The happiness lab,  The Doctor's Pharmacy, Natural MD Radio & Huberman lab (which is full of science if you're into it)
 Some health books of many to ponder  
'Hormone Intelligence', by Aviva Romm;  should be on all bookshelves – and she's written more excellent books!
'Untamed – Stop pleasing, start living', by Glennon Doyle. The title says it all.
'Breath' by James Nestor.  A must for anyone who breathes
'The metabolic approach to cancer', by Dr Nasha Winters.  An extraordinary functional ND, author, speaker, global cancer consultant who survived stage 4 cancer some 25 or 30 years ago.  Her next book is coming out in February  'Mistletoe and the Emerging future of Integrative Oncology'
(mistletoe extract has a century-old history of use in complementary medicine especially regarding cancer.  In Europe, mistletoe extract injections are among the most prescribed therapies used to treat cancer alongside chemo or exclusively.  Studies and testing have been ongoing for decades so I'm looking forward to discovering what Dr Winters puts forward in her book.
Health influencers, some of the people who've inspired me
Dr Caroline Leaf, a neuroscientist and mental health expert; always seems to find the perfect single sentence or paragraph to sum up a very long and difficult complex issue.
Robyn Puglia, functional medicine practitioner; lecturer, teacher and more.  Also runs online talks and QA sessions on facebook with the brilliant thryoid and brain author/educator Dr Datis Kharrazian (check out his weekly talks on his facebook page).
Ben Brown, functional nutritionist, lecturer and more; website newsletters offer well-researched commentary on current health conditions and studies.
Dr Nasha Winters, mentioned above; some of her talks and interviews are available on YouTube.
Avivia Romm, also mentioned above; her website is an encyclopaedia of knowledge 
So many other health professionals who are daily influencers for me, who are part of my practitioner world – Debbie Cotton, Moira Bradfield, Jason Hawrelak, Emma Beswick…. There will be YouTube talks by them out there.
As for food authors there are so many new, fab cookbooks available, I can't keep up with them.  For me, Ottolenghi continues to deliver and I am currently still working my way through the vegetarian recipes in 'Flavour' (just reduce the sugar which he SO loves to add, in some form or other, to his recipes).
His mushroom-lentil ragu dish is a winner for us and will be part of our Xmas menu this year.
Niki Webster (aka Rebel recipes), is about to bring out another vegan cookbook, watch her space!
And for anyone wanting to do gluten free baking, Naomi Devlin offers so many excellent workshops online, take a look at her website.
Finally, my dear friend, and surrogate mum, 94 year old Hedi continues to be a big influencer for me.  She can still walk the length of Regent street and then enjoy a hearty meal.  I think she invented the word resilience.
I'd love to hear from you!
Tell me about some of the positives you've found this year, whether it's some people you've met or books or happenings that have made your life, or illness, or Covid journey, aka slog, a little easier.
I'm back in my zoom clinic here, in Dorset, on Tuesday, 4th January.  As always I'm offering a Christmas gift discount for the month of January; 10% for all consultations.  Just email me for bookings.
Until then I'm sending you all huge hugs and lotsa merries, and a happy 2022 for us all.
Stay well friends!
x