This is a delicious salad a friend brought to the table on my recent trip back to Sydney when a gaggle of us got together for a catch up feast.  It's inspired by the 'Hellenic Republic' grain salad recipe by Melbourne chef George Dimitrios Calombaris.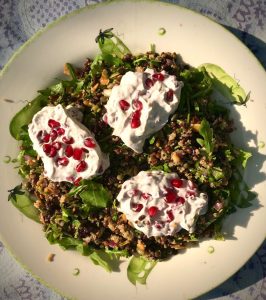 Instead of freekah (cracked wheat) I used quinoa only because I didn't have freekah in my pantry.  It's a good gluten-free option although be aware that pseudo grains like quinoa can be a problem for grain-, or gluten-sensitive peeps.
I also used dairy-free coconut yoghurt as that's what I had at hand – and with that the salad morphed into a vegan recipe!  And even though df yoghurt doesn't sound very Hellenic it was absolutely delicious with the cumin and pomegranate swirled in it.  Also I snuck in some rocket because I love leafy greens and it's such an easy way to get more into your daily diet.
All in all, this is a well-rounded dish with all the macronutrients you need, so enjoy it on its own, or alongside other dishes for a feast.  Last week we ate it as a side with falafel, very yummy.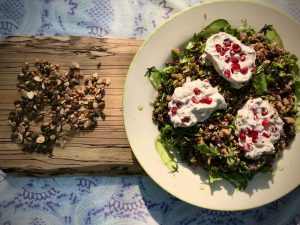 Ingredients
(serves 4)
100g red and white quinoa (or freekah)
100g Puy lentils
1 bunch coriander, chopped
1 bunch parsely, chopped
handful rocket or any salad leaves you like
1 small red onion, finely chopped
2 tbsp (c 30g) toasted pine nuts
2 tbsp toasted flaked almonds
2 tbsp toasted pumpkin seeds
2-3 tbsp small capers
70g currants
3 tbsp extra virgin olive oil
1 lemon, juiced
100g pomegranate seeds (or a whole pomegranate)
100g Greek yoghurt or dairy free alternative
1 heaped tsp ground cumin
Method
Boil the Puy lentils and quinoa separately in water until cooked to your liking.  Drain and cool.
In a bowl, add these to the chopped herbs, toasted nuts and seeds, capers, currants, lemon juice and olive oil.  Mix well and then stir in the rocket or salad leaves.
Add the ground cumin and pomegranate to the yoghurt and dollop on top of the salad.
Easy, quick and very scrummy!