Reflections on a challenging year
I hope this finds you all safe and well.  As we near the end of what's undeniably been a difficult year, I thought I'd try to share some thoughts and ideas that have helped me through these past challenging months.
It's understandable that our focus has been on this pandemic and everything that it has brought with it.  And yet, for so many, bright moments have managed to shine through.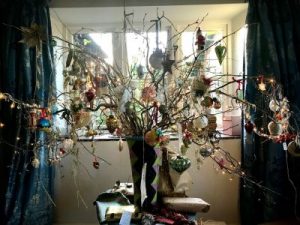 A lot of clients and friends have commented that Covid has made them reset priorities, whether it's been spending more time with family or reconnecting with old friends, changing jobs, healing rifts.   More quiet time to think about what's important.
The countryside tracks and fields around us here in Dorset look so different!  More people are out and about in nature doing daily walks, runs or cycles when they'd never found time in the past.
Our internet world has opened up all sorts of possibilities.  Some amazing online classes and workshops are now so easy to access.  I've loved the virtual tours of art exhibitions, and YouTube instructional videos have never been so important!
Zoom and phone consultations have meant I've been able to carry on working with clients.  Webinars and online – virtual – conferences have made my CPD accessible and stress-free.
How have you found all these new online offerings?  Are you part of a zoom reading group or quiz gathering?
We've all been given pause for thought; all of us have faced our own vulnerability and humanity.
I know I've been more grateful than ever for the caring people in my life who've checked in to see how things are going.
A new year is about to happen, and with it new hope.
On January 7th I'll be back at my work desk with zoom and phone in hand.  As always, an appleaday Christmas gift is here for you, a 20% discount for appointments in the month of January.  Please book via email mentioning this newsletter.
Below are some photos, clicks and thoughts on health which show a few of the many silver linings I found this year.  Hopefully there are some here for you as well  x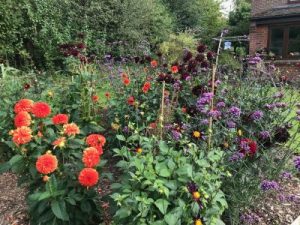 There's so much evidence on the health benefits of being in nature.  I certainly felt those positives on free July days when I'd go outside and check on our new bed of dahlia babies, or tackle yet another weedy garden patch.  I'd often have headphones on, listening to a podcast.
I love the discussions on Rangan Chatterjee's 'Feel Better, Live More' app.  Here's a link to a talk he had with Dr Tara Swart that was recorded around the time of UK's first lockdown.  So much invaluable food for thought.
https://drchatterjee.com/how-to-plan-the-post-lockdown-future-of-your-dreams-and-coping-with-emotions-with-dr-tara-swart/
Another more recent episode I found very interesting was with Arianne Huffington.  It was about the value of microsteps and rituals, both such integral parts of my clinic practice.  The discussion seemed to embrace more and more fascinating topics as it went along.  I came away feeling so inspired (although it did take me a wee bit to get used to her voice!)
https://drchatterjee.com/arianna-huffington-microsteps-and-rituals-to-help-you-thrive/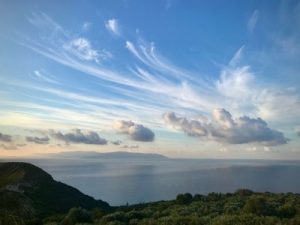 Since Covid kicked off I've seen many clients having problems with poor sleep, stress, anxiety or depression.
The trauma of this year is having a huge impact on our inner lives.
There are so many effective ways to help our emotional well-being but when you're in the thick of it, it can be hard to figure out which ones to try.
If you'd like some helpful pointers and health recommendations as a first step,  I still offer free short calls.  Not enough time, of course, for a full health check, but certainly enough to have a chat.
Just email or call to sort out a time to suit us both.
Meanwhile, I've mentioned The Calm app to many clients and friends over the years.  It's certainly been my safety net when I wake up in the early hours with thoughts buzzing.
There's a plethora of different relaxation and sleep supports on it, from stories to mindful practices, music and sounds in nature.  All help move thoughts to a calmer space.
Here's a taster, but remember there are lots more choices on the app to cover all preferences.
https://www.youtube.com/watch?v=O4x9ssJ0jfM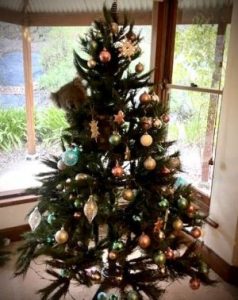 This photo made me laugh!  An Australian family finding a baby koala amongst the decorations in their tree.  Oh how I'd love to find a koala in our Dorset Xmas branches, but it's highly unlikely even if borders open!
Here are some fave Xmas recipes from my website.  We're keeping it simple this year so we have more time to chill, but the soup and orange cake are definites!
https://www.appleaday.org.uk/christmas-butternut-porridge/
https://www.appleaday.org.uk/orange-xmas-cake/
https://www.appleaday.org.uk/christmas-vegan-chestnut-and-sage-soup/
https://www.appleaday.org.uk/chestnut-butternut-and-mushroom-pie/
Finally, a last share for those wanting to sit back, forget the cooking and read a good book instead.  These are just a few of many good books I read this year, both fiction and work-related.  I'd love to hear what your favourite reads were, so please email or message me here or via social media.
Mind Wide Open, by Steven Johnson
Rewilding: A return to nature, by Isabella Tree (what a great surname!)
Patch work: a life amongst clothes, by Clare Wilcox (curator of fashion at the V&A)
The Unmapped Mind:  A memoir of neurology, MS and learning how to live, by Christian Donlan.
Always hard to decide but I think this last one is my book of the year.  It's not a textbook but a poignant, funny and very illuminating memoir I simply couldn't put down.
I wish you all the very best in the coming days, weeks and months.
The world is sharing the same Christmas wish this year I'm sure: good health to everyone.
Be safe, be merry!