We've been watching far more nature programmes these past months.  So reliably uplifting, nature doing its thing.

Recently Spring Watch was on BBC, a very popular programme here in UK.  Two weeks of learning more about the amazing changes Spring brings with it.  We saw beavers and otters, fish, badgers, butterflies, you name it. 
The main focus, as always, was on nesting birds and their fledgings, with some precarious nests being built on high and others balanced in bizarre places just inches away from predators.  We watched parent birds constantly feed their young until finally most of the fledglings defied the odds and flew off.  A cheering message.  Reassuring to see nature going about normal business at a time when our world is so very far from normal.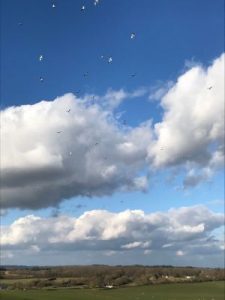 The presenters talked about more wildlife and birds being about due to less traffic and noise, less activity in towns and built-up areas.  They shared some breath-taking videos and photos the public sent it.  People who were isolating or not working or on furlough – children still off school – all having more time to notice daily changes in their gardens and nearby parks. 
Every night it felt like an escape from the daily Downing Street updates and world statistics and scenes of angry demonstrators.  And yet nature is just as much a part of our reality as Covid-19 and world news.   A happier part that we can tune into every day – every hour of every day if we want!   Nature can most definitely help us feel better, lifting our mood with a surge of endorphins – those happy hormones – as we watch new life unfold around us.
It was interesting to see how much close-up photography was in the programme this year.  Filming the tiniest insect under a convoluted camera lens.  Seeing a mote of dust floating in water only to discover it was a creature with astonishing talons and fangs.   
It made me think about the macro and micro world we're living in right now.  How we are changing focus far more than we might normally do.  Moving from the macro picture of what's going on in our global community, to the micro picture of what's happening in our personal lives, what we're eating for dinner tonight.
Changing our focus, our lens, constantly is hard work.  It can be overwhelming thinking on different planes all the time as we try to absorb today's communal bigger picture whilst looking after our micro world.  Feeding the family, understanding the latest Covid rules, tapping out work emails, seeing second spikes abroad, helping with homework, feeling for angry demontrators, watering the garden.  No wonder so many are saying they don't want to listen to the news, that it's too much.   
Most of the posts I've shared over the past months have had something to do with plants or gardens, walks or healing foods.  Giving myself and others some mindful space to plug into nature.  Giving those happy endorphins a chance to rise and expand. 
We all need a breather from this bigger macro picture so we can find balance and mindful time in our micro worlds.  This is where nature shines.  It's right here, outside our windows and front doors.  So easy to bring into our daily lives.  Walking, weeding, cycling, sitting and watching.   Birds peepsing, petals opening, rain falling. 
The sky outside, is it blue or grey where you are right now?  Are buds unfurling or is winter mist drawing in?  Tell me what's happening around you, I'd love to know.  x