I didn't know this dish actually had a name.  For years I made a version of it with leftover rice and fresh fish, shredded greens and various curry ingredients.
One day a friend, a nutritional therapist colleague staying with us, sat back after dinner and said, 'I like the way you make kedgeree with fresh fish and no egg.'
And that's when I discovered my leftover rice-fish dish was called something.  I'd prepared it with more leafies, more antioxidants, and taken away some of the smokey flavour.  A tasty and healthier version, this kedgeree-ISH dish.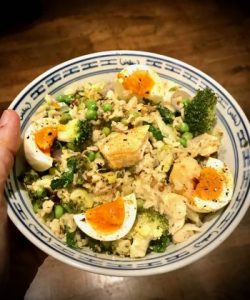 I use mainly fresh fish fillets with a nod to the original smoked recipe by adding a small fillet of lightly smoked salmon.  Sadly, studies show that smoked foods contain nitrates & nitrites that convert to cancer-causing compounds.  I'd recommend that if you want to eat anything smoked, enjoy it as a rare treat and not something to keep in your weekly diet.
When I look at traditional kedgeree recipes what stands out is the lack of colour.  Admittedly we don't want every meal we eat to look like the same rainbow.  However, adding some leafy greens and broccoli to this dish livened it up yet didn't detract from the fish and curry flavours.  More leafies = more phytonutrients and immune support.
I don't always add boiled eggs, which of course is one of kedgeree's hallmarks.   As delicious as they are (& such a fab protein & nutrient source, especially if the chickens are fed on a rich omega 3 diet), eggs are quite a common intolerance food.   I'm seeing more and more clients who say they sometimes feel 'off' after eating them.  However, if they're a friend of your digestion by all means add them when serving up.
Here's a snapshot of most of the ingredients in the recipe.  Please imagine a leek lying horizontally at the top, and real fish not photos, laid out on that plate.
I only thought of taking this shot after we'd scoffed it all!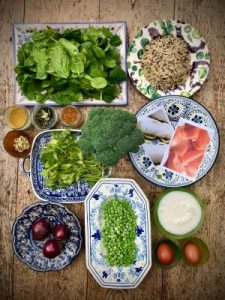 Ingredients
Serves 4 – 6
250g lightly smoked salmon
250g white flakey fish like haddock or cod.  Or wild salmon if you don't mind salmon… and more salmon
250g mixed rice (eg. basmati brown, red, black or whatever blend you can find)
500ml water or vegetable broth for the rice
2 or 3 small red onions, finely sliced
1/2 leek, green part, sliced
100g shredded spinach
100-150g broccoli, broken into tiny florets
100g frozen peas
1 heaped tsp hot curry powder (or mild if you prefer)
10 dried curry leaves, crushed
1/2 tsp cardamom powder
1/4 tsp turmeric powder
1/4 – 1/2 tsp dried chilli (optional)
200-250g plant milk;  I've used coconut or oat
2 boiled eggs (for 4 servings, 3 eggs for 6)
olive oil for cooking
freshly ground pepper
sea salt if needed
4 tbsp flat leafed parsely, chopped
Method:
In a pot gently heat the olive oil then add the sliced onion.  Cook until translucent.
Add the rice and stir until coated then cover with 500ml vegetable broth or water.  Bring to the boil, uncovered, then lower the heat, replace the lid and allow to cook for about 15 mins.
Check the rice near the end to make sure it isn't catching.
Meanwhile boil your eggs if you're adding them to the dish.  Rinse in cold water and peel ready to quarter.
In a deep pan, or large pot that will take the finished meal with rice, heat 3 tbsp olive oil.
Gently fry the leek then add the crushed curry leaves, curry powder and other spices.  Gently fry the fish on both sides.  Note that if your fish has skin, fry it skin-side down before using tongs or a fork and knife to remove it.
Add the vegetable milk to the fish-spice-leek and simmer.
Most fish fillets will be cooked within 10-12 minutes.  Even though this is a forgiving dish you don't want your fish overcooked and turning into a mush when you add the rice and mix them together.
For the last 5 minutes of fish cooking time add the tiny florets of broccoli, frozen peas and spinach.
Once the fish is cooked, gently break it into chunks to your liking.
Add the cooked rice to the pan of fish, spices and greens.  Gently fold in and do a taste check.
Do you want more curry powder or perhaps some chilli?   You may need sea salt if you haven't used vegetable broth, or smoked fish.
Serve in large bowls, top with chopped parsley and divide up the quartered eggs evenly.
Finish with ground black pepper –  and enjoy.