A scrummy lentil recipe for you to try, plus some quirky facts that take the lowly lentil to an altogether new level.
This recipe's become a fast favourite.  We've eaten it as part of a meze feast, as a side to fish & veg as well as a stand-alone with wild basmati rice and a huge bowl of crunchy mixed leafies.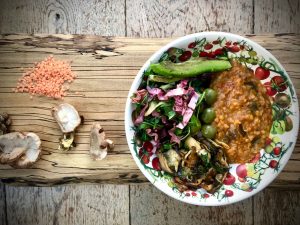 Lentils have certainly come a long way since I first spied them decades ago, an overcooked brown mound heaped beside some dry nut roast.  It took the deliciously exotic recipes from Asia and the Middle East to spark my interest and open up all sorts of lentil possibilities.
They've actually come an even longer way.  Not just the oldest cultivated legume but they're also mentioned in the bible.  And as I was wading through lentil articles online I stumbled upon a blog, 'The History of Lentils' that claimed archeologists found lentil artifacts dating back to 8000 BC from the banks of the Euphrates.
Lentil artifacts?!  Can't imagine what that means, can you?  I think of artifacts being ancient urns, crudely made stone weapons or broken bits of corners of obscure things… but not lentils.  [I have, however, since learned that organic material, when found alongside ancient artifacts, do have a name: biofacts.  Who knew?]
Whatever this dig on the Euphrates banks found, I now have an image I can't shake from my head of an ancient cooking pot with petrified lentils stuck to the base ('coz we all know how easy it is to overcook & burn them, even back in the day…back in the ancient day).
At different times over the milennia, and in different global cultures, lentils have see-sawed between poor man's supper and sumptuous king's feast.  What's remained steadfast and certain is that they've always been nourishing, packed with fibre and protein, B vitamins, iron, zinc, potassium…
If you're thinking split lentils are the same as split peas because they look so similar, they're not.  The name says it all.
Split peas come from dried field peas and lentils are seeds found in pods on small plants with branching vines that love dry, warm climates.  This is one reason they've not been traditionally grown here in UK (although this, too, has changed.  Hodmedod's, a Suffolk company specialising in pulses, seeds and grains, were the first to successfully grow them back in 2017, and since then it seems everyone's giving them a go).
Undoubtedly lentils' first love must be the prairies, since Canada's production and export of the not-so-lowly lentil far outstrips the rest of the world's production by thousands of tons.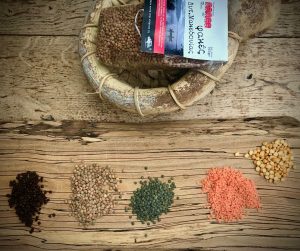 Lentils come in all sorts of colours, another reason to love them  – how many foods have this talent?  There's black beluga here on the left of the photo (looking a little like caviar), and then various shades of brown, including the smaller puy ones (and a packet from Greece).  Plus green, red and yellow, and no doubt more I haven't come across yet.
Pulses, even lentils, should be soaked overnight before rinsing and cooking in water.  Soaking, cooking and sprouting helps break down the oligosaccharides in the tough outer skin, that can cause bloating and gas for some.  Soaking also reduces the phytic acid, which can block absorption of important minerals in our foods.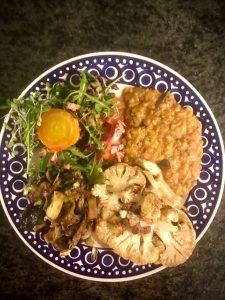 The split red lentils in this recipe are smaller than the more common brown and green variety, and because they've been hulled (outer covering removed) and split, those hard-to-digest carbs have already been removed so they do not need soaking, just a rinse before cooking to ensure no small stones within are masquerading as lentils.
If you're using canned pulses, give them a thorough rinse as they've been canned in firming agent, an additive that stops them turning to mush (another good reason to choose dried rather than canned).
Here's the recipe and bravo for getting to the end of this lentil story.  I don't know about you, but after discovering all these snippets I actually love this little pulse even more!
Ingredients
(serves 4 as a main)
100g dried red lentils
One 400 ml tin coconut milk
olive oil to gently fry:
3 large banana shallots, peeled and finely chopped
5 cms peeled fresh ginger,  grated
Optional: 1 red chilli, de-seeded and finely chopped (or dried chilli, as much as your tastebuds enjoy)
20 dried curry leaves, crumbled and stems removed
1 tsp ground coriander
1 tsp ground turmeric
1 tsp ground cumin
1 heaped tsp mild curry powder (or sharp if you want more zing)
200g very ripe tomatoes, or 200g from a 400g can tomatoes – OR 2 heaped tbsp tomato paste
a pinch of sea salt
500ml water, more or less (depends on what tomatoes you use)
Method
Pour the olive oil in a large pan and heat on medium.  Add the shallots until they're transparent, not too coloured, then the grated ginger, chilli and curry leaves.
Stir through and heat for a few minutes.
Next add all the spices and chopped tomatoes (or paste) and the lentils.  Mix for another few minutes then pour in the coconut milk plus c 500ml water and that smidgeon of salt.  Check regularly as you may want to add more water if you used the tomato paste and not the fresh & juicier toms.
Bring to the boil then reduce the heat and let simmer for 20 minutes until the sauce thickens and the lentils are done.  Stir occasionally throughout to stop them becoming future lentil petrified artifacts!
Let me know if you love it too 🙂