This is my wellness soup.  I'm such a fan of zingy fresh spices like lemon grass, kaffir lime leaves and ginger.  If I want a comfort soup this is it.  All the more so if adding chicken, with its high tryptophan, an amino acid that's the precursor to our feel-good serotonin.
The soup can actually be anything you want.  Vegan, pescatarian or a good 'ole chicken soup with an Asian swing to it.  Here are some options for you to try.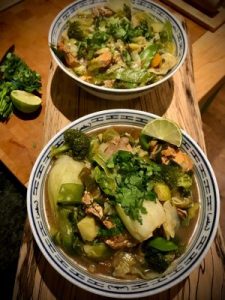 Ingredients
4 servings
Spices for the broth:
1 tsp cumin
1 tsp garam masala
1/2 tsp grated or ground turmeric
1 heaped tbsp brown miso paste
1 crushed, then finely sliced lemon grass
5 dried kaffir lime leaves, crushed with stems removed
4 cms fresh ginger, grated or finely chopped
1.5 litres veg broth or water
*If doing a veg-only soup, ie. no marinade, add c4 tbsp tamari, 1/2 cup chopped coriander, 3 crushed garlic cloves and, if you want a kick, some chilli flakes to the above.  Also more veg broth to compensate for not having the fish/chicken liquid marinade to add to the pot.
The vegetables:
1/2 leek, sliced
150 g brussel sprouts, halved
200g broccoli florets
100g green beans, halved
100g mangetout or sugar snap peas
large handful spinach, shredded
another generous one of kale, finely shredded
4 mini bok choy (or 4 large if you can't get minis)
olive oil to start the stir fry
sesame oil to drizzle at the very end
chopped coriander to decorate
1 lime, cut into 4 wedges
The optional chicken or salmon:
3 fillets free range or organic chicken, cut into chunks or thick slices
OR
3 wild salmon fillets, whole
Marinate the chicken or fish for at least 4 hours in:
1/2 cup chopped coriander
1/4 tsp dried chilli
1 tsp garam masala
3 crushed garlic
4-5 tbsp tamari
plus enough veg broth to cover the chicken/fish.
Method:
If I'm making my soup with either salmon or the chicken slices, I poach them first.  That way I can remove the fish skin easily and break it into smaller pieces, put aside and focus on the soup and veg.  You can of course poach whilst making the veg broth, whatever works for you.
Gently fry the leek in olive oil on a medium heat until soft.  Add all the spices, stirring well.
Pour in the vegetable broth plus the chicken/fish marinade [or the additions mentioned above for the  *veg-only].
Bring to the boil then simmer.
Add the vegetables to the broth, starting with the halved brussels which may take longer depending on size, then the beans and broccoli.  After simmering about 6-8 minutes (check the sprouts aren't still rock hard), add the mangetout, bok choy, kale and spinach which only need a bat of an eyelid to wilt.  Now find room for the cooked chicken or salmon!
Serve in deep bowls, drizzle with sesame oil and top with chopped coriander and a wedge of lime, yumm!