It seems every spring my mind turns to green curry!  This is my Green curry paste recipe, Mark 2, lol.  More ingredients, more depth of flavour plus vegan friendly.  An upgrade of last year's recipe with less chilli, more ginger and kaffir, a combo of citrus juices plus oils and the addition of delicious adaptogenic and anti inflammatory holy basil.  In fact there are loads of anti inflammatory benefits in this mix.  And just look at the amazing zingy colour!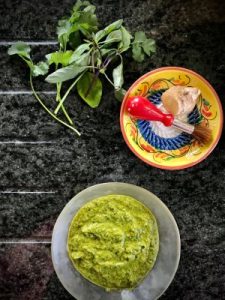 I love the fact that this recipe is simply the sum of it's parts. No complicated prep, just some slicing, grating and squeezing.   Saying that, if you want to use whole coriander and cumin seed rather than powder then it's best to heat them first in a pan to release flavour and aroma before crushing them in a mortar.   I used the powdered forms and they still added their distinctive flavours to the whole.
Last week I made fish cakes with some of the paste, so scrummy we had a repeat yesterday when two friends came over for an early outdoor supper.  (Great to have some Covid restrictions now lifting here in UK.  Long may it last).
You could use the paste as part of a veg curry sauce, with or without coconut milk, or marinate chicken pieces in that luscious green.  Lots of options but I'll post my fishcake version in the coming week.
It only took about 10 minutes to prepare the paste and 5 minutes to mix 'n blitz.  It'll keep in the fridge for a few weeks and is freezer-friendly, hooray!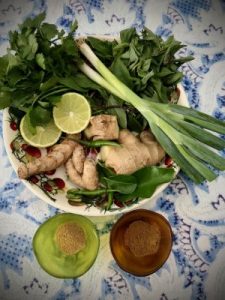 Ingredients:
Makes 6 or 7 tablespoons (give or take the amount of coriander you choose to use)
1 tsp cumin powder (or seed)
1/2 tsp ground pepper ( " )
1/2 tsp coriander powder ( " )
1/2 tsp sea salt
1 tsp ground turmeric (or 1 tbsp fresh, grated)
6 small or 3 large garlic cloves, crushed
2 stalks lemongrass (tips off, outer layer off as well if very tough.  Halve and finely chop)
2 tbsps chopped ginger
2-3 hot green chilli, halved, seeds removed and finely sliced, or 1/2-1 tsp dried
3 spring onions, green part only chopped
2 large soft kaffir limes leaves (the dried leaves are hard to blend and can ruin a paste unless you fully remove the leaf's midrib (central vein) and then very finely slice the green parts, the leaf lamina.  If you can find soft leaves it's so much easier!)
3 tbsp lemon juice
Zest and juice of a lime
a small bunch of coriander with some stem (about 15-20 leafy stems, give or take)
c 4 stems of holy basil, shredded leaves only
2 tbsp avocado or olive oil
1 tbsp sesame oil
A little water if it's too congested at the end
Method:
If you want to use seeds for the coriander, cumin and pepper, toast these in a pan first until fragrant then crush with your pestle and add to the rest.
I used a hand-held blender to mix all the ingredients.  Coriander leaves and some stem, basil leaves, kaffir leaves, green chilli, garlic, lemongrass, ginger, spring onion, coriander, cumin, pepper, turmeric, sea salt, lemon and lime juice, lime zest, the oils, and then, right at the end, a dash of water to thin it slightly.
Do a quick taste test.  Add a little more salt or chilli for more kick if you want, or sesame oil or whatever flavours you'd like to taste more of.
The taste is supposed to be strong as it's carrying most of the flavour for your veg curry or fish cakes.
Enjoy x