This is a delicious vegan dish, a combination of shredded carrot pancakes with roasted spiced carrot – carrot upon carrot! – topped with a mint-garlic-lime juice df yoghurt.
Inspired by Nikki Webster's scrummy recipe I added red chard to mine here below for extra colour and antioxidant goodness.  Spinach or kale, cavalo nero or even something like radicchio with its slightly sharp tang, would be delicious.  Really, the choice is yours.
Antioxidants are on my mind big-time due to my current auto immune and post-chemo clients not to mention the background noise of Covid-19, so I multiplied the antioxidant ooomph that spices offer and added lots of ginger, turmeric and garlic.
These gram spiced pancakes are a fabulous base for all sorts of other meals.  I topped them with a mixed rainbow salad last week and last night ate them with fish (cumin and garam masala rubbed on hake before grilling).
It's so good to wriggle a recipe into the shape that suits your individual taste – and the occasion.
Have fun, and I hope you enjoy this dish 🙂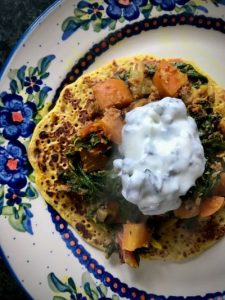 Ingredients:
Serves 2
Spiced carrots:
2 tbsp olive oil
1 tsp brown mustard seeds
2 tsp cumin seeds
1 tsp ground coriander
1 tsp ground turmeric
1/2 – 1 tsp chilli flakes
1 large or 2 medium onions, finely chopped
4 cloves garlic, pressed
4 cms knob ginger, grated
3 medium carrots, diced into small cubes
6 large red chard leaves (I finely sliced some of the stalks as well); or 2 large handfuls of young spinach or kale, roughly chopped
250ml filtered water
4 tbsp desiccated coconut, lightly roasted
sea salt and black pepper to taste
Carrot pancakes:
140g gram flour
1 tsp sea salt
2 garlic, pressed
1/2 tsp ground turmeric
1 tsp ground cumin
pinch chilli flakes – optional of course!
80g grated carrots
handful fresh coriander, chopped
300 ml luke warm water
2 tbsp olive oil
Yoghurt Topping:
6 tbsp plain coconut- or almond-based yoghurt (I used Coconut Collaborative's df)
juice of 1 lime
1 tbsp virgin olive oil
1-2 garlic, squeezed
4 tbsp chopped fresh mint (about 5 medium leaves per tbsp) or 3 tbsp dried
sea salt to taste
Mix these together and your topping is done!
Method:
Carrot pancakes:
Mix all the dry ingredients, add the pressed garlic, olive oil and water.  Blend well then stir in the chopped coriander and grated carrots.  Set aside for 15-20 minutes whilst you start the carrot curry below.
To cook the pancakes, add some olive oil to your non-stick pan then use a soup ladel to pour in your mixture (you'll figure out the size you want after the first 'trial' which is always a good tester for size and taste).
Once bubbles form in the pancake and the edge darkens a little, ease the spatula beneath it and turn.  After the first one your pan usually finds its mojo.
Cover with a cloth or place in a low heat oven whilst you make a total of about 8 small pancakes.
Meanwhile….
The carrot curry:
Heat the oil then add the mustard and cumin seeds. When they start popping add the other spices and stir before frying the chopped onions till they soften.  Then comes the garlic and ginger followed by the diced carrots and water.  Cover and leave to simmer for about 10 mins, adding your chopped chard or greens so they wilt but don't get cooked to nothing!
Meanwhile….dry roast the coconut in a pan until it just colours then stir it into the carrot-chard mix and season with sea salt and pepper.
To serve, spoon a generous amount onto the pancake base and dollop the mint yoghurt on top.  Add extra mint for decoration (I forgot in this photo!)
Enjoy!